Voltbike is an electric bicycle manufacturer devoted to manufacturing and distributing high-quality electric bicycles at affordable prices.
Best Electric Bike Companies in Canada

As North America's largest electric bike brand, Rad Power Bikes is constantly redefining the way people and goods move with a dedicated team that designs e-bikes that can be used for anything and are affordable.
Save Big On These Limited Time Offers

Although Pedego believes in excellence and quality (a belief backed up by the manufacture of high-quality bikes), they place a much higher premium on people. With Pedego, you have a company that stands for you!

Biktrix is devoted to manufacturing electric bicycles that are affordable yet exhibit high performance. Bikes that are more convenient, more efficient and more affordable option.
Voltbike is a North American electric bicycle manufacturer founded with a singular goal/desire: to introduce quality yet affordable electric bikes into North America. In 2013, after lots of patient and detailed work, the first Voltbike e-bike was released. Voltbike has since produced and delivered several more electric bicycles across North America that have left customers very satisfied.
Voltbike has its Canada headquarters at a huge warehousing facility in Port Coquitlam, BC. They also have a shipping center in Blaine, Washington, USA, from where they routinely ship premium quality electric bicycles into Canada. In order to ensure maximum user satisfaction, Voltbike invests a lot of time and effort into the production of each unit of electric bike.
Also, by being personally responsible for shipping the electric bikes into Canada and North America as a whole, Voltbike ensures customers only have to pay lesser to be able to get high-quality, excellent e-bikes. In addition, Voltbike offers test rides for customers looking to explore available bicycle options. They also have a repair section that helps customers fix whatever problem they may have experienced/be experiencing with their Voltbike e-bike.
Styles of e-bikes
Voltbike offers electric bicycles in several different categories. These categories include:
Off-road Electric Bicycles
City/Road Electric Bicycles
Full Suspension Electric Bicycles
Folding Electric Bicycles
Cargo Electric Bicycles
Voltbike has a wide product range filled with different categories of premium quality electric bicycles. This ensures that customers will be able to find the perfect e-bike to suit their needs. This article discusses three of the most popular electric bikes Voltbike has to offer.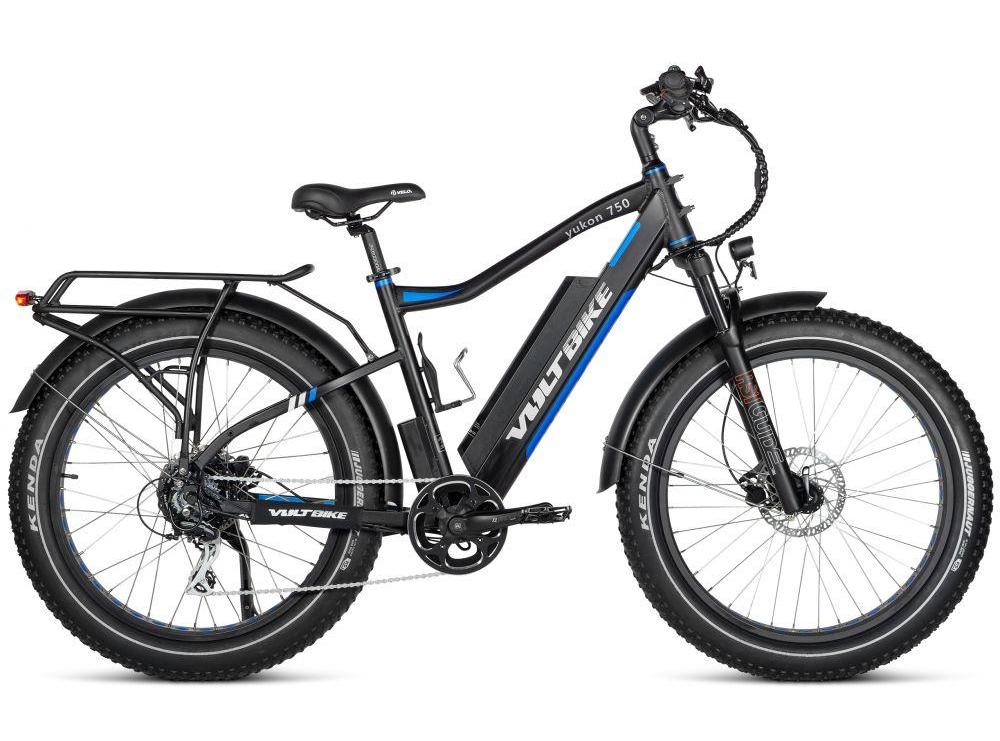 The Yukon 750 is an electric bicycle designed to defy expectations and stretch the "limit" of what is expected of electric bicycles. This e-bike boasts an impressive array of quality components that ensure it will always be an excellent ride!
Key Features
500W Geared Motor
Puncture-resistant tires
Hydraulic Disk Brakes
Lockout Suspension Fork
Aluminum Rear Rack
48V 19.2Ah Battery Pack
LED Front and Rear Lights
Adjustable Stem
9 pedal assist levels
Reflective Sidewall
LCD Screen
Half Twist Throttle
Pros
The 500W gear ensures the bike has a top speed more than sufficient for your riding needs!
The 48V 19.2Ah battery pack means the bike can travel 80-95 km per charge.
Lockout Suspension Fork allows for smooth, comfortable rides irrespective of road type.
The electric bicycle's aluminum rear rack is strong enough to comfortably carry up to 50lbs of cargo/load.
The Yukon 750's front and rear LED lights and reflective sidewall contribute to increased visibility and safety, especially in dark conditions.
High-quality hydraulic disc brakes make sure riders can stop the bike whenever they want to easily.
The puncture-resistant fat tires serve to improve safety. The e-bike's fat tyres also enhance road grip, ensuring that the Yukon 750 will not be limited by road type!

The bike is also highly adjustable and customizable, allowing for maximum comfort for riders.

The LCD makes it easy to monitor battery and pedal-assist levels.
Cons
There is no step-thru design, so some people may find it challenging to get on/off the e-bike.
It only has one motor.
There are e-bikes with stronger motors.
Cost
The Yukon 750 LIMITED is currently valued at C$2,199.00. A free helmet and a 1-year warranty are also included with each purchase.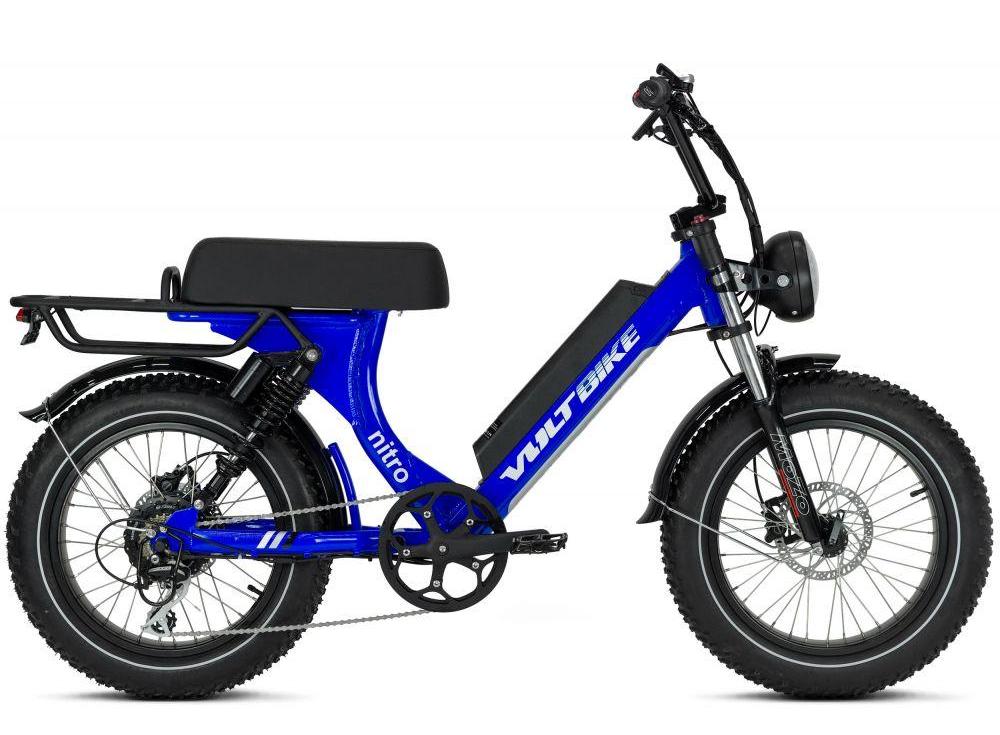 The VoltBike Nitro is an expertly designed,  highly durable e-bike that is capable of making your "normal" commuting into something fun and extraordinary. You need an e-bike perfect for city commuting; you've found it!
Key Features
Rugged Front and Rear Suspension 
500W Geared Motor 
48V 17.5Ah Lithium-ion Battery 
Quality Hydraulic Brakes
Adjustable Stem
Twist Grip Throttle
Puncture-resistant Tires
Rear and Headlights
Step-thru frame Design
Pros
The Nitro's rugged front and rear suspensions make sure riders can enjoy comfortable rides relatively free from jarring motions. 
The 48V 17.5Ah lithium-ion battery means the Nitro can travel distances as much as 60-80km per charge.
The bike's 500W Geared motor offers a speed of up to 32km/hr. With this, city commuting becomes as easy as possible.
The electric bicycle's hydraulic brakes offer excellent stopping power. They are also very durable.
The tires are puncture-resistant, adding to riders' safety. They also have a reflective lining for improved visibility in low light conditions (night or other dark conditions).
The front and rear lights also contribute to improved visibility and safety.
The Nitro has a step-thru frame design which means riders will be able to get on and off the bicycle with minimal problems. 
Cons
There are electric bicycle options with better motor capacity
Only has one motor
Cost
The VoltBike Nitro is currently valued at C$2,099.00. Voltbike also includes a free helmet and a 1-year warranty on each purchase.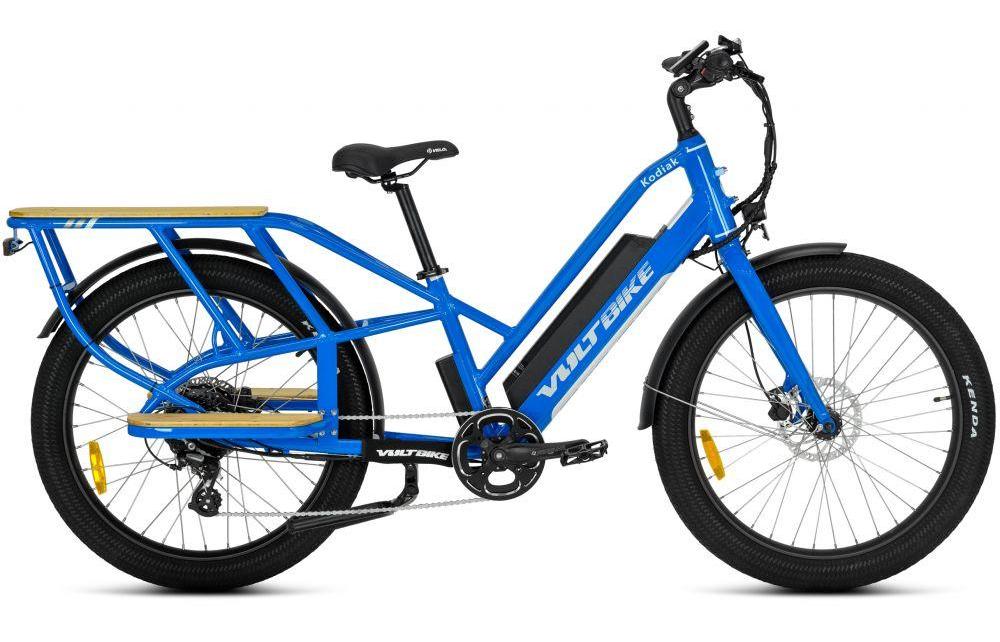 The VoltBike Kodiak is a high-performance electric cargo bike excellently designed for easily moving cargo across different road types. The Kodiak is that bicycle you need for running errands and picking up groceries.
Key Features
750W Peak Power
48v 17.5Ah Samsung Battery
Back-lit Color Display 
Built-in USB Connector
Strong Rear Rack
LED Headlight and Taillight 
Front and Rear Hydraulic Disk Brakes
Rigid Fork
Aluminum Step-thru Frame Design
Off-road tires
Pros
The VoltBike Kodiak has a 500W Motor (750W peak power) that gives it a top speed of 32km/hr.
The 48v 17.5Ah Samsung battery ensures you will be able to travel distances as far as 60-80km per charge.
The Kodiak's backlit colour display allows riders to easily monitor speed, battery, and pedal-assist levels.
This bike also has a USB connector. This means riders can easily charge their devices/phones while riding.
This electric bicycle also has a strong rear rack that can easily carry up to 120lbs. This makes it perfect for running errands.
Its front and rear hydraulic brakes ensure the bike will be easy to stop.
The Rigid Fork provides increased stability and balance.
The headlight and taillight contribute to increased visibility and safety, especially when riding at night.
It also has a step-thru design that makes it easy to get on and off the bicycle.
The Kodiak's tires have an off-road design. This ensures you can even take road paths on your way to the store or market.
Cons
Only has one motor
There are e-bikes with motors of higher capacity.
Cost
The Voltbike Kodiak is currently valued at C$2,199.00. Voltbike includes a free helmet and a 1-year warranty with each purchase.
With Voltbike, customers can be sure the electric bicycles they are getting will be of high quality will be more than equal to the cost attached. There is also a Specialty Use Vehicle Incentive (SUVI), a rebate program that enables eligible customers to enjoy savings on each purchase.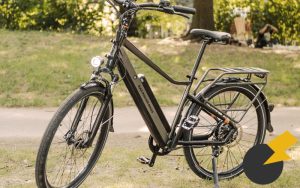 Best Electric Bike Companies in Canada Take It To The Road Electric road bikes have become increasingly popular in Canada,
Read More »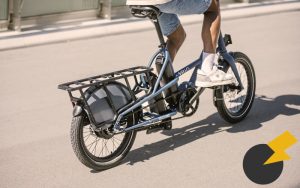 Best Electric Bike Companies in Canada Cargo Bikes Compared To Utility Bikes Cargo bikes and utility bikes are two types
Read More »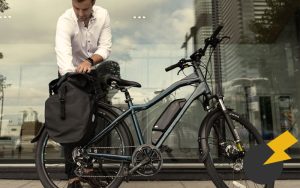 Picture this: you're cruising along a mountain road with the blowing wind in your hair and the sunlight on your
Read More »