Although Pedego believes in excellence and quality (a belief backed up by the manufacture of high-quality bikes), they place a much higher premium on people. With Pedego, you have a company that stands for you!
Best Electric Bike Companies in Canada

As North America's largest electric bike brand, Rad Power Bikes is constantly redefining the way people and goods move with a dedicated team that designs e-bikes that can be used for anything and are affordable.
Save Big On These Limited Time Offers

Although Pedego believes in excellence and quality (a belief backed up by the manufacture of high-quality bikes), they place a much higher premium on people. With Pedego, you have a company that stands for you!

Biktrix is devoted to manufacturing electric bicycles that are affordable yet exhibit high performance. Bikes that are more convenient, more efficient and more affordable option.
Riding a bike should be comfortable and fun, and with Pedego Electric Bikes, that's exactly what you get… FUN. In 2008, Pedego was founded in California, and Pedego Canada just two years after. Now, Pedego has a chain of store locations all across Canada selling, servicing, and renting North America's most popular electric bicycle. Pedego believes that the most important component of any bike is the person riding it. This is why it is a company that places a premium on user comfort. Every Pedego electric bike is designed to allow users to experience the most delightful and comfortable bicycle ride possible with every use. It's not just their design and provision of highly comfortable, high-quality electric bikes that make Pedego one of the best in Canada. They also have a "no excuses" customer care that makes sure you get an excellent response to every enquiry or complaint (if any). Talk about customer care that actually cares! Pedego is much more than an electric bike manufacturer; Pedego is a community. This is why there is a Pedego owners group where Pedego bike owners can meet up for a shared fun experience. Pedego also has dedicated stores staffed with bike experts that can recommend and help you make the perfect electric bike choice for you.
E-bikes Styles
Pedego boasts a pretty extensive product line featuring electric bikes from the following categories:
Cruiser Electric Bikes
Off-road Electric Bikes
City Electric Bikes
Specialty Electric Bikes
Pedego offers a complete line of electric bikes with a total of 20 models to choose from, ensuring that you can find the right fit for your specific demands and personal style. This article reviews the three most popular electric bikes from Pedego.
The Pedego Stretch-Electric Cargo Bike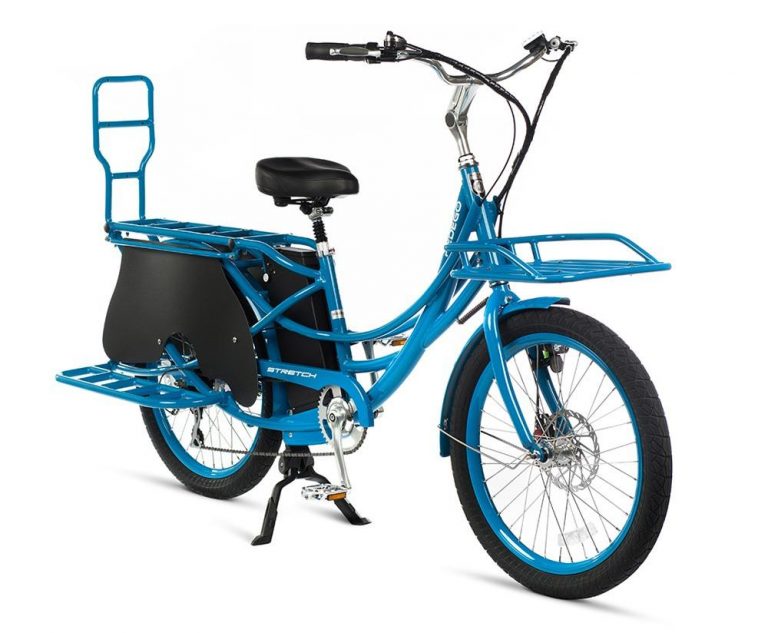 The Stretch is a one-of-a-kind cargo bike with a "perfect" build that enables it to be the perfect electric bike option for moving goods and people from one location to another. If you need a bike perfect for grocery runs, you just found it.
Key Features
400 Pound Weight Capacity
Short Wheelbase
500 Watt Motor
48 Volt Battery
Different Color Options
Pannier Rails
Twist-and-go Throttle
Front and Rear Lights
Pedal-assist
LCD Display 
Adjustable Handlebars
Frame-mounted Rack
Adjustable Side and Back Racks
Pros
Built for balance and stability: The stretch is designed to feel balanced no matter what you're carrying, thanks to its small wheelbase and low battery location. The front cargo tray is also permanently attached to the frame, so it will not tip over when rounding a tight curve!
Its bigger battery and extra torque makes it a handy utility bike
The 48-volt battery means it can allow you to travel up to 70 kilometres on just 10 cents worth of battery power
The 500-watt motor ensures "climbing" will never be a problem with this bike
Adjustable: The handlebars and racks are adjustable to provide users with maximum comfort.
Bright front and rear bikie lights help to improve safety.
This e-bike also has an LCD with a USB charger
There are also several colour options available.
Cons
The e-bike's 400lb weight capacity limit means it might not be suitable for people of considerable sizes.
The bike's "utility design" means it's not the best option for casual rides.
Cost
The Pedego Stretch costs about $4,495 – $4,895. A 5-year warranty (PedegoCare) is also included with the purchase.
The Pedego City Commuter - Electric Commuter Bike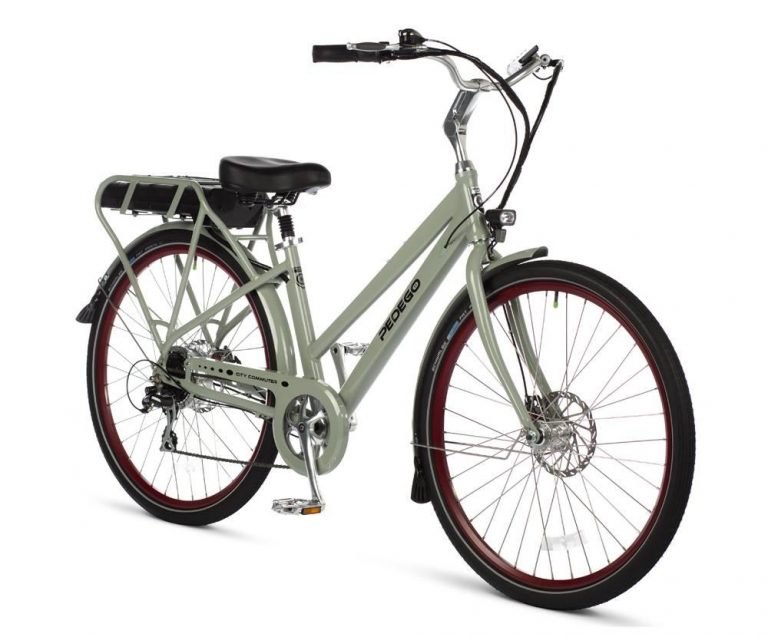 The city commuter is perfect for commuting! This aptly-named bike is the perfect option for you if you're looking for the ideal bike option for moving around the city. The City Commuter is also perfect for leisurely country lane cruising.
Key Features
Quick-release Handlebar Stem
Deluxe Suspension Seat Saddle
Bluetooth-connected Smartphone App
500-watt Geared Motor
Pedal-assist
Balloon Tires
Adjustable Handlebars
Front and Rear Lights
52-volt battery
Several Frame and Colour Options
Pros
The 52-volt battery is lightweight and can allow you to travel up to 70 kilometres on just 10 cents worth of battery power.
The 500-watt motor adds improved acceleration and "climbing ability."
The tires are kevlar-vested for added durability.
The front and rear lights help to improve safety.
The bike has Fenders with mud flaps and a full-coverage chain guard to keep you clean and dry.
The bike's traditional frame style and adjustable handlebars allow for a maximum-comfort riding experience.
There are also several frames and colour options available.
Cons
The bike's traditional design means it will be a relatively poor substitute for a utility bike.
Cost
The Pedego City Commuter costs around $3,895 – $4,595 per unit. As with the model earlier discussed, the PedegoCare 5-year warranty is also included.
The Pedego Trail Tracker - Electric Fat Tire Bike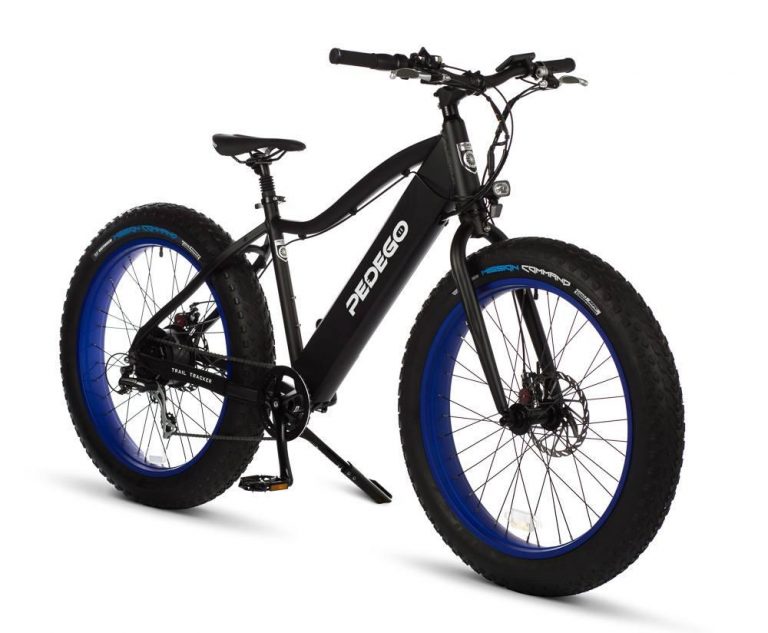 Are you in the market for a bike to use for those daring runs? A bike with super-strong brakes and powerful acceleration that makes climbing a breeze? Then this is the perfect bike for you! The Trail Tracker is the electric bike equivalent of a monster truck. It can go places and perform tasks that no other bike can.
Key Features
Balanced Frame Geometry
4-inch-wide Tires
500-watt Motor
Rear Motor Hub
Pedal Assist
Front Light
Suspension Seatpost
Premium Disk Brakes
Integrated Battery
Various colour options
48-volt Battery
Pros
The balanced frame geometry ensures the bike will always be comfortable to ride, whether on-road or off-road.
The 4-inch tires ensure the bike won't stay stuck in mud or sand. Instead, it allows the bike to move freely irrespective of the surface you're riding on.
The bike's rear hub motor allows it to outperform the competition in terms of acceleration and power.
The suspension seat post adds extra cushioning to improve riding comfort
The premium disk brakes ensure you can easily stop the bike at any time.
The 48-volt battery can allow you to travel up to 70 kilometres on just 10 cents worth of battery power.
Cons
Cost
The Pedego Trail Tracker is valued at $3,695 – $4,895. Also, as with the earlier discussed bike models, this bike is covered by the 5-year PedegoCare warranty. In addition, the battery has a two-year warranty.
In summary, if what you are after is high-performance electric bikes that are also convenient to ride, Pedego Electric Bikes is where you want to start looking.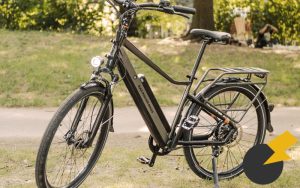 Best Electric Bike Companies in Canada Take It To The Road Electric road bikes have become increasingly popular in Canada,
Read More »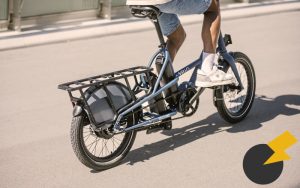 Best Electric Bike Companies in Canada Cargo Bikes Compared To Utility Bikes Cargo bikes and utility bikes are two types
Read More »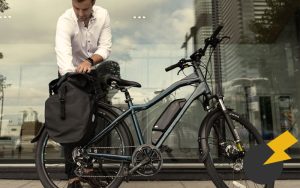 Picture this: you're cruising along a mountain road with the blowing wind in your hair and the sunlight on your
Read More »